I hope to have it ready to go, and actually start submitting it before Christmas.

Now for the next story...
I just finished the rough draft of a new story. This is the first unsolicited short story that I've written in quite a while, so it's a very good feeling. My skills are still a bit rusty, so it will take several re-writes, but I'm fairly happy with the way this one turned out, even if it went a completely different direction than I'd expected. A lot of times, however, some of my best stories actually are the ones that seem to have a mind of their own.
Originally published at Schrodinger's Bookshelf. You can comment here or there.
You know what's even more amazing than seeing your story in print?
Hearing it read out loud as part of an audiobook.
Seriously. The knowledge that such a thing exists, that someone has brought your words and worlds to life, given them voice and substance, is simply amazing. I know it's old hat to many of my writerly brethren, but I get a thrill every time I run into a new audio adaptation of something I've done.
To date, five anthologies I've been in have received such treatment. Of course, as my luck would have it, all five are erotica anthologies, but I'm not picky. If they want to turn my smut into porn for the ears, I'm game.
The first of these is "The Long Night of Tanya McCray," from Lustfully Ever After, edited by Kristina Wright, in which an intrepid photographer gets lost in Puxhill's mysterious Gaslight District overnight. Sadly, the narrator for this volume is…underwhelming, and doesn't really do the material justice, in my opinion. But hey, these things happen.
A better example is "In the Service of Hell," from Seductress, edited by D.L. King, which features a succubus on a mission from her infernal masters. Kaylee West does a very nice job of bringing "Alice" and her target to life, adding a quiet nuance and complexity to their exploits.
Then there's "Love on a Real Train," from Girl Fever, edited by Sacchi Green, which sees a pair of lovers recreating an iconic scene from a classic '80s movie. The narrator for this story (one of several who take on the Herculean task of reading the 69 stories) imbues my movie-obsessed characters with a sense of playfulness and sensuality. I can't shake the sensation that the narrator is about ready to let a giggle slip free. It's a quick, fun, listen.
Kaylee West makes a second appearance to narrate "Thwarting the Spirits" in She-Shifters, edited by Delilah Devlin, which stars a werecobra and weremongoose as moon-crossed lovers and mortal enemies. Though her performance is a little shaky at times, I was absolutely delighted by the way she gave the characters distinct voices and accents. (Important when one's Indian, another's Pakistani, and assorted other folks pass through as needed.) Most importantly, she gets the attitudes and pronunciation just right, just the way I hear them in my head. In fact, I never even imagined wereraven Izzy Sparks with a bit of a country drawl, and now I'll never be able to unhear it. Possibly my second favorite audio adaptation to date.
Lastly, there's the incomparable Veronica Giguere, who narrates "The Secret Life of Ramona Lee" in Geek Love, edited by Shanna Germain and Janine Ashbless. Her interpretation of the story and the characters is almost transcendent in its awesomeness. The way she handles the titular Ramona and her new friend, the information sprite Irene, blows me away. There's depth and complexity, playfulness and a certain breathy glee. I just about fell in love with my own characters after listening to them…awkward, right?
So there you have it. Not only can you read my stories, you can even listen to a few of them if you're feeling adventurous.


When I was up there last friday, I did chat breifly with my doctor in passing, and she is supposedly going to check on my status as it were. Everything is on hold pending Neurology. Everything.

Spent yesterday doing fiddly things inside the house, resorted a small bin of greeting cards that got tipped over, sorted through some papers, got the cardboard bins out of the car so I can get back to rough sorting things, cuz, bins... much sturdier than bags.
I havent looked outside yet to see what the 'scape is like, if its icy, I am not going up to the VAMC this afternoon. I am supposed to get the results of my neuro-psych testing today. Probably they will tell me I am a tad bit crazy.. which, duh..
Raising Steam. In it, characters from many previous Discworld novels get involved in the building of a railroad, as well as dwarven politics. The outline sounds good, the end result not as good as I would have liked. But, it's read, and now I can move on to other things that I want to read...
I can really tell when I'm not enjoying a book all that much; in this case it was PTerry's new book
Originally published at Lawrence M. Schoen. You can comment here or there.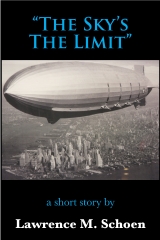 I meant to do this a couple days ago, but… Life.
So, I'll do it today instead. Tuesday (i.e., two days ago) marked the anniversary of the death of Damon Runyon, newspaperman, short story author, and (as I recently learned) one of the architects of modern roller derby.
Runyon wrote about New York's Broadway. He died in New York, but he was born in Manhattan, Kansas (i.e., the "little Apple").
When I was in high school, the drama department put on a production of Guys & Dolls, and I've had his characters' voices running around in my head ever since. Eventually, this led me to write a pastiche, "The Sky's The Limit," which was published in All Star Zeppelin Adventure Stories.
I recently installed a "Contact Me" option on my website. As my way of paying respect to Damon Runyon, if you "contact me" in this way and include your email address and the format you need (ePub or mobi), I will send you an ebook of the story. The offer expires Sunday night, December 15th.
But Almgren's real job is to be one of the most important spark plugs in the STEM movement. He was one of the people who negotiated National Instruments' important contribution to the LEGO Mindstorm game (the programming software is LabVIEW with a child-friendly GUI) and National Instruments' even more amazing contribution to FIRST robotics a couple of years ago.
Most people who are now waking up to the importance of STEM in revitalizing manufacturing in North America have no idea who Ray is, or what an enormous contribution he has made. Somehow, for a marketing guy, he is remarkably self-effacing.
He's written an opinion piece for
InTech magazine
which lays it plainly on the line about STEM.
"The U.S. Bureau of Labor and Statistics reports that job opportunities in STEM fields are expected to grow significantly over the next five years, growing twice as fast as non-STEM industries," Almgren writes. "In spite of this growing need, today's students are losing interest in these disciplines and pursuing other career choices. Furthermore, university students who do obtain engineering degrees are experiencing a major disconnect between the concepts they have learned in their studies and the practical applications to real-world problems they face in the workforce. So how do we make a lasting impression on young students and keep them engaged throughout the education continuum?"
He goes on to explain that there are simple, cost effective solutions to getting students engaged and keeping them so, such that they want careers in manufacturing. Adopting hands-on learning experiences and providing dedicated role models are two of the most important.
Take the time to read this excellent article, and while you're doing that, think about how you're going to help us create the STEM-educated job holders that will carry North American manufacturing into the second half of the 21st Century. Hoping someone will do it just doesn't cut it. If you don't help, who will?
Many years ago, I met one of the most amazing people-- his name is Ray Almgren, and his job is to take the wildest ideas of Dr. James Truchard, CEO of National Instruments, turn them into marketable ideas and share them with the world. His title is VP Marketing.